Date: 24~26 November 2017
Venue: Georgetown, Penang
FB event page: https://www.facebook.com/events/137824583515598/
The Festival Handbook will also be available at all festival venues from Wednesday, 22 Nov onwards.
http://georgetownlitfest.com/programmes.php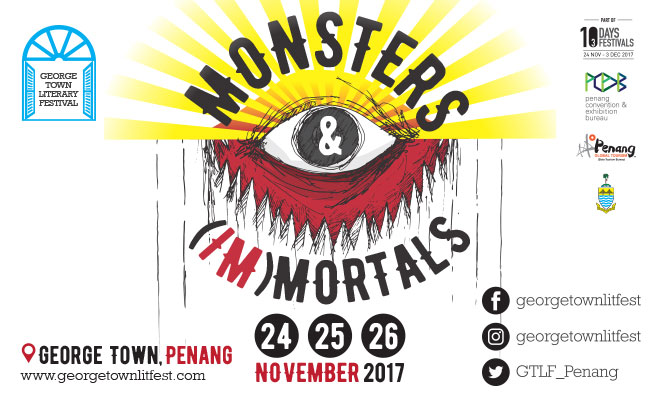 George Town Literary Festival (GTLF) is featured alongside the annual In-between Arts Festival and Penang Island Jazz Festival, in conjunction with '10 Days 3 Festivals' in Penang. Highlighting the best of literature, music, arts and culture in Penang, the objective of these back-to-back festivals is to draw in visitors from all over for a holistic arts festival experience in Penang.
MONSTERS & (IM)MORTALS
In a world ruled by demagogues, we are reminded of a time when the immortals – the gods – ruled, where myth and legends pervaded our understanding of the world and the cosmos, where human beings were human and the gods immortal. Monsters lived in their midst and it was one of the reasons the gods went to war, to wage battle against fearsome beasts who threatened all manner of destruction. But there were also men who became monsters, who turned against all that was good and all that was human. 'Monsters & (Im)Mortals' looks at light and dark; of genius and madness, reality and fantasy, the element of the shadow in literature and of divine tragedy.