Date: 25 – 27 May 2016 (Only 3 Days !)
Time: 11AM to 5PM
Venue: Inch Cafe (opposite Camera Museum)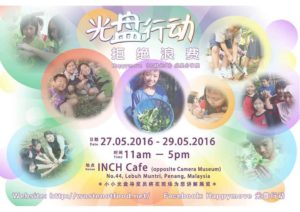 The Happymove 'Farming for O-waste' Exhibition
Deeper than a mere slogan, the 'O-waste' effort draws its definition from the very roots of where food comes from –- the ground. By learning the process of identifying soils, planting seeds, nurturing growth, and harvesting, children will be able to incorporate the spirit of 'Farming for O-waste' into daily life. After going through ten lessons in the three-month program, the children will be sharing their findings and exhibiting their learning journals with you.
Come join us, and let the young exhibition guides show you the world of Happymove's 'Farming for O-waste'!
'Farming for O-waste' Brief Introduction
'Farming for O-waste' is a crucial component in the whole 'O-waste' program. Its purpose is to educate students on where food comes from, through hands-on experiences. Children who complete the program will be exposed to the processes needed in bringing food to their plates, by learning basic farming skills and procedures, as well as observing the growth of edible plants.
Happymove《农耕光盘》成果展
——–欢迎光临,入场免费——–
了解食物 ,珍惜食物 ,光盘食物
《光盘行动》 从口号进阶至深层含义,回到源头——土地,寻找食物的来源。从下种种植、土壤辨认、成长经过、结果丰收到归零留种再种,这系列的自然农耕循环,我们将以趣味活动,探索观察,学习和互动,让学生在短短三个月里,将 "光盘精神" 实践于生活。
10堂农耕课, 学生将在成果展里展示自己的创意记录小本子,也在展场和大家分享学习心得。
让这群来自6所小学的小小光盘导览员,带领您一起来了解与认识 Happymove《农耕光盘》吧!
Source: http://visitpenang.com.my/happymove%E3%80%8A%E5%86%9C%E8%80%95%E5%85%89%E7%9B%98%E3%80%8B%E6%88%90%E6%9E%9C%E5%B1%95/