Date: 3 December 2017
Time: 9AM to 1PM
Venue: New World Park
FB event: https://www.facebook.com/events/127732161267095/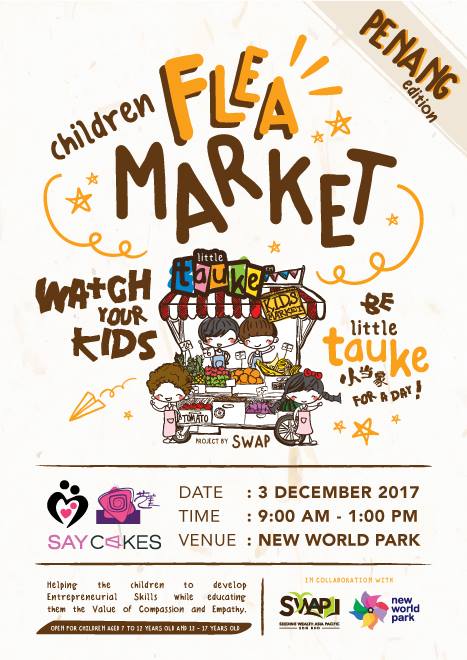 Watch your kid be little tauke for a day and embark on the journey of being an entrepreneur!
The LITTLE TAUKE CHILDREN FLEA MARKET is Penang's very first children flea market manned by children for children. The programme provides an experiential learning opportunity for children. By learning to be Tauke, children and teens aged 7 to 17 years old can develop important life skills including financial management, selling techniques, social skills and creativity.
To inspire the value of compassion and empathy, Kids are encouraged to donate part of their earnings to our designated charity at the end of business day. Prior to the event, the participants will undergo a 6-hour preparation session that includes hands on experience on how to start a muffin stall business by Say Cakes.
This interactive session aims to equip the participants with basic knowledge and insights such as product pricing, money handling, product display and customer engagement. Families can spend quality time with the kids as they assist them in the running of their stalls. Members of the public can support this meaningful programme by checking out great deals at the Flea Market, which is held at New World Park, Penang to inspire confidence and helping the kids to pick up practical life lessons.
For more details and to register, kindly whatsapp or call us at 010-2171008 or visit our website at
www.littletauke.com