Date: 8 – 22 February 2016
Time: 4PM onwards, Lights off at 12 midnight
Venue: Esplanade, Penang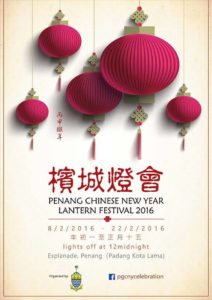 Description
In conjunction with Penang Chinese New Year Celebration 2016, the Penang State Government will be organising a first of its kind Chinese New Year Lantern Festival in year 2016.
The Chinese New Year Lantern Festival will be held at Esplanade, Penang, starting from 8 of February 2016 until 22 of February 2016. There are more than 40 CNY lanterns which are to be grouped into over 20 giant lanterns throughout the 15 days Chinese New Year. They will be lighted up at 7.30pm daily and lights off at 12 midnight. This Lantern Festival is free of charge.
A 20 feet height main lantern is designed in the theme of "Spring", where it brings the meaning of the beginning of a brand new year. There are also very cute cartoon themed lanterns which will surely drive all kids crazy. It is highly recommended that parents shall bring their children to visit the first ever Chinese New Year Lantern Festival in Penang that proudly brought to you by the Penang State Government.
Source: http://www.visitpenang.gov.my/portal3/penang-tourism-news/2189-penang-chinese-new-year-lantern-festival-2016.html