Date: 10 & 11 December 2016
Time: 9am to 5pm
Venue: Teluk Bahang Dam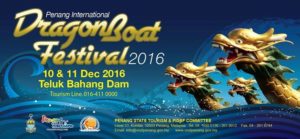 The annual Penang Pesta Dragon Boat Race is back this year, on 10 and 11 December 2016 at the scenic Teluk Bahang Dam. Watch the exhilarating sports of dragon boating as 40 local and international teams from Hong Kong, Thailand, Singapore, China, Philippines, Iran; and not forgetting Malaysia andmany more battle out for this much anticipated race.
This event is fully supported by the Penang State Government and is an affiliated festival of the International Dragon Boat Federation (IDBF). For your information, Penang has more than 30 years of experience in organizing dragon boat races benefitted with the technical expertise of a large number of experienced IDBF Technical Officials.
Dragon boating has been around in Penang since the 1950s and it is part of Penang's heritage. The sport promotes discipline, teamwork and perseverance. Enjoy your weekend of pulsating thrills and spills to the tune of vigorous beating of drums, strong thrust of oars and various stage performances as the dragon boat teams battle it out in the water to be the champions.
Members of the public are welcome to watch the race. Food stalls serving local delicacies will be available on the event day. For more information please call 04-650 5136 or drop an email to [email protected] for further assistance.
Source: http://www.visitpenang.gov.my/portal3/penang-tourism-news/2328-penang-international-dragon-boat-festival-2016.html