Date: 30 November ~ 3 December 2017
Time: 10AM to 11PM
Venue: Bayview Beach Hotel
Tickets: Ticket Pro
FB Event: https://www.facebook.com/events/920045941477369/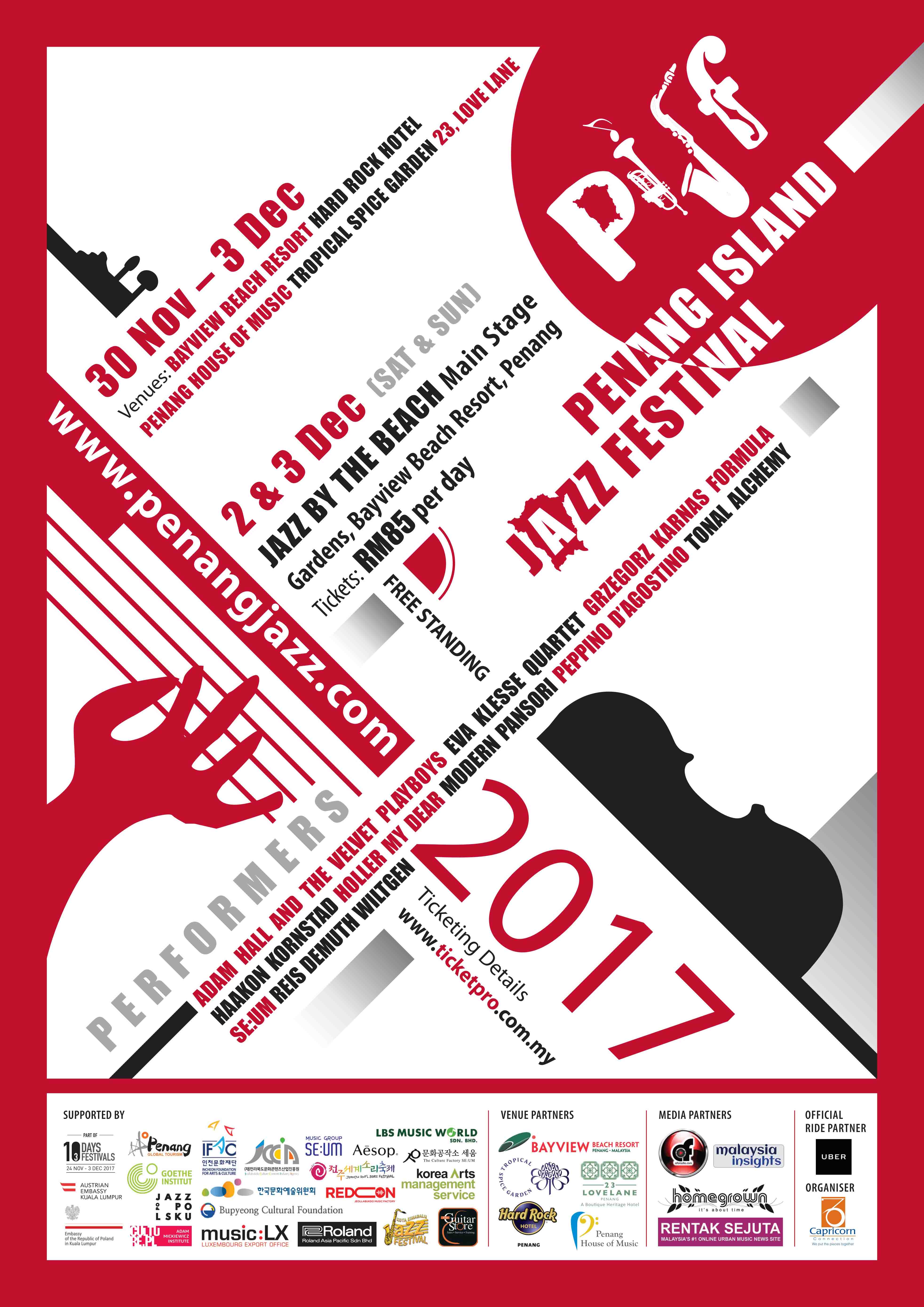 A number of musical activities will be held in various venues on the island such as an opening performance at 23 Love Lane and an exhibition at The Black Box – Penang House of Music in Georgetown, Fringe Stages in the lobbies of Hard Rock Hotel, Penang and Bayview Beach Resort, the early morning "Sunrise@Tropical Spice Garden in Teluk Bahang and the "Jazz By The Beach" stage in the gardens of Bayview Beach Resort.
Besides musical performances, there will also be workshops conducted by participating artists, the Island music forum on topics revolving around other aspects of the music industry, gallery exhibitions and the after- hours jazz jam.
This year's main stage programme showcases a diverse and eclectic line-up of performers on the "Jazz By The Beach stage" on 2nd & 3rd December 2017 with Italian fingerstyle guitarist "Peppino D'Agostino", jazz, blues and swing band – "Adam Hall & the Velvet Playboys", jazz saxophonist cum opera singer "Haakon Kornstad", a Polish-Indonesian collaboration "Grzegorz Karnas Formula", creative jazz drummer "Eva Klesse and her Quartet", Ethno-fusion bands "SE:UM", and "Modern Pansori" from Korea, modern jazz Luxembourg-USA collaboration trio "Reis Demuth Wiltgen", acoustic folk jazz quartet "Holler My Dear" and Penang's own jazz quintet "Tonal Alchemy".
The Penang Island Jazz Festival 2017 is part of 10 Days 3 Festivals and supported by Penang Global Tourism Sdn. Bhd., Goethe Institut, Austrian Embassy Kuala Lumpur, Embassy of The Republic of Poland, IAM Culture, Jazz Polsku, Sori festival, Jeonbuk Culture Contents Industry Agency, Redcon Music Factory, Music LX, The Culture Factory SE:UM, Incheon Cultural Foundation, Arts Council Korea, Bupyeong Cultural Foundation, Aesop, KK Jazz Festival, LBS Music World, Roland Asia Pacific, The Guitar Store, Official Ride Partner – UBER, Venue Partners, Bayview Beach Resort, Hard Rock Hotel Penang, Tropical Spice Garden, The Black Box Penang House of Music, 23. Love lane, Media Partnersaforadio.com, Malaysian Insights, Homegrown Productions and Rentak Sejuta.
Tickets to the "Jazz by the Beach" performances are priced at RM85.00 per night and is available via www.ticketpro.com.my and its authorized outlets.
For more information on the Festival activities, visitwww.penangjazz.com.
Join us on
Facebook, https://www.facebook.com/groups/PenangIslandJazzFestival,
Twitter @penangjazzfest,
Instagram @PenangIslandJazzFestival and our
YouTube channel PenangIslandJazzFestival.
The Penang Island Jazz Festival is organized and managed by The Capricorn Connection
Ms. Chin CY, Festival Administrator (012 – 356 5544, [email protected])
Mr. Kevin Theseira, Administrative & Programme Executive (016- 360 7091, [email protected])
PENANG ISLAND JAZZ FESTIVAL 2017
MAIN STAGE PROGRAMME
Saturday (2nd December 2017)
7:00pm – 7:45pm -> Modern Pansori
7:55pm – 8:40pm -> Eva Klesse Quartet
8:50pm – 9:35pm -> Peppino D'Agostino
9:45pm – 10:30pm -> Grzegorz Karnas Formula
10:40pm – 11:25pm -> Adam Hall and The Velvet Playboys
Sunday (3rd December 2017)
7:00pm – 7:45pm -> Tonal Alchemy
7:55pm – 8:40pm -> SE:UM
8:50pm – 9:35pm -> Haakon Kornstad
9:45pm – 10:30pm -> Reis Demuth Wiltgen
10:40pm – 11:25pm -> Holler My Dear
N.B. Programme is subject to change