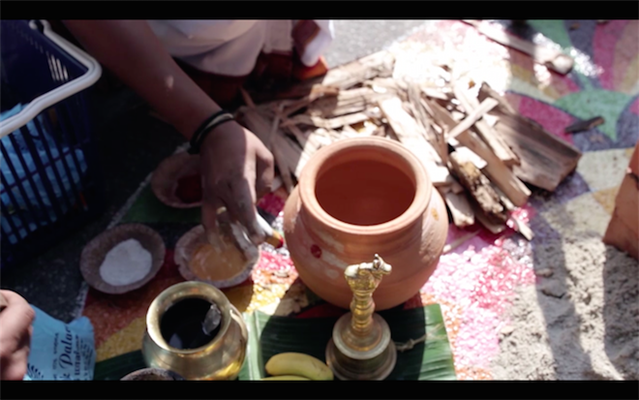 Date: 14 January 2017
Time: 5PM onwards
Venue: Dewi Annai Sri Thropathi Amman Temple on Ladang Victoria, Nibong Tebal
For further info, please contact: +604-650 5215
Join the Penang Pongal celebration. Organised by the Penang Hindu Endowment Board, in collaboration with NGOs and temples, the celebration will feature cultural presentation and pongal at the event.
Pongal is a Hindu 'thanksgiving' festival traditionally dedicated to the Sun God Surya to thank the solar deity for a bountiful harvest.
The word Pongal literally means "boiling over" and refers to the ritual of boiling freshly harvested rice and milk until it spills out of the pot. The boiling over is believed to bring good luck and prosperity to the household. The moment the rice boils over and bubbles out of the pot, Hindus will shout "Ponggalo Pongal".
The saying "Thai Pirandhal Vazhi Pirakkum" (தைபிறந்தால்வழிபிறக்கும்) meaning "the commencement of Thai paves the way for new opportunities" is often quoted regarding the Pongal festival.
During Pongal, houses are also cleaned, painted and decorated and Kolam's (ground patterns made out of rice flour) are made in the front yards of the houses.
In the temples, the rice dish is also prepared while devotees chant prayers. Food such as vegetables, sugar cane and spices are first offered to the gods and later consumed by devotees to cleans themselves of past sins.
The Penang State Tourism Development wishes all our Hindu friends a Happy Pongal!
Source: http://visitpenang.gov.my/portal3/penang-tourism-news/2341-pongal-festival-2017.html