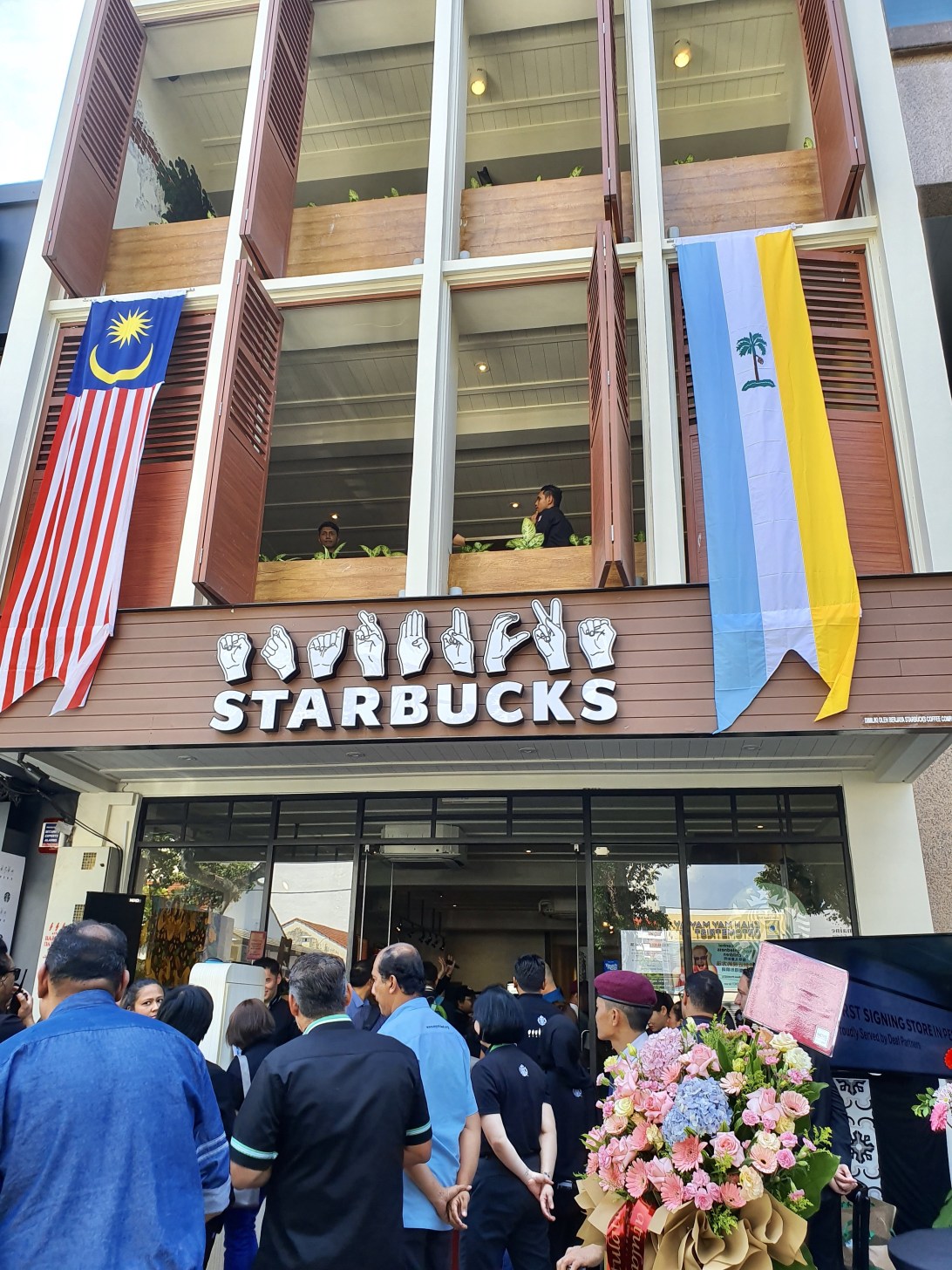 Date: 20 November 2019
It is the first in Penang, the second in Malaysia, and the fourth in the world! A few months ago, we had mentioned that Starbucks will be opening its very first signing store in Penang, but with no additional information. With a blink of an eye, Starbucks Signing Store Burmah Road is now officially brewing! It offers the same great taste of coffee, but the experience is truly different.
What's a signing store? A signing store offers employment and development opportunities to the Deaf and Hard of Hearing partners within the community. The three-story Starbucks outlet will be operated predominantly by deaf partners! It is time to learn up some simple sign language to communicate with the friendly baristas. Planning to learn? Coffee chat and sign language classes will be available soon in the outlet too!
The Starbucks outlet underwent a transformation in order to cater to the Deaf and Hard of Hearing partners. After ordering your beverages, you will notice that the operations are a little different. Check out the visual alarms, digital trays, Starbucks Rewards kiosks, and point-of-sale system equipped with a customer display. Explore the new space, and don't forget to check out a mural designed by Penang deaf artist, Lim Anuar.
Apart from checking out the mural, head down to the merchandise rack located next to the bar. You will be greeted with two rows of Starbucks Signing Store Exclusive Merchandise. Find tumblers, mugs, tote bags, and key chains! Additionally, get your hands on an exclusive Starbucks card specially designed for Starbucks Signing Store Burmah Road. Load RM100, and you will get a matching key chain for free!
To celebrate this joyous occasion, head down to Starbucks Signing Store Burmah Road to enjoy a cup of Vanilla Fig Frappuccino for RM11. You will be happy to know that RM1 will be donated to Penang Deaf Association. This promotion is only valid for one day only on 19th November 2019. It is time to celebrate, and do good at the same time with this promotion!
Address: 403, Jalan Burma, Pulau Tikus, 10350 George Town, Pulau Pinang
Source