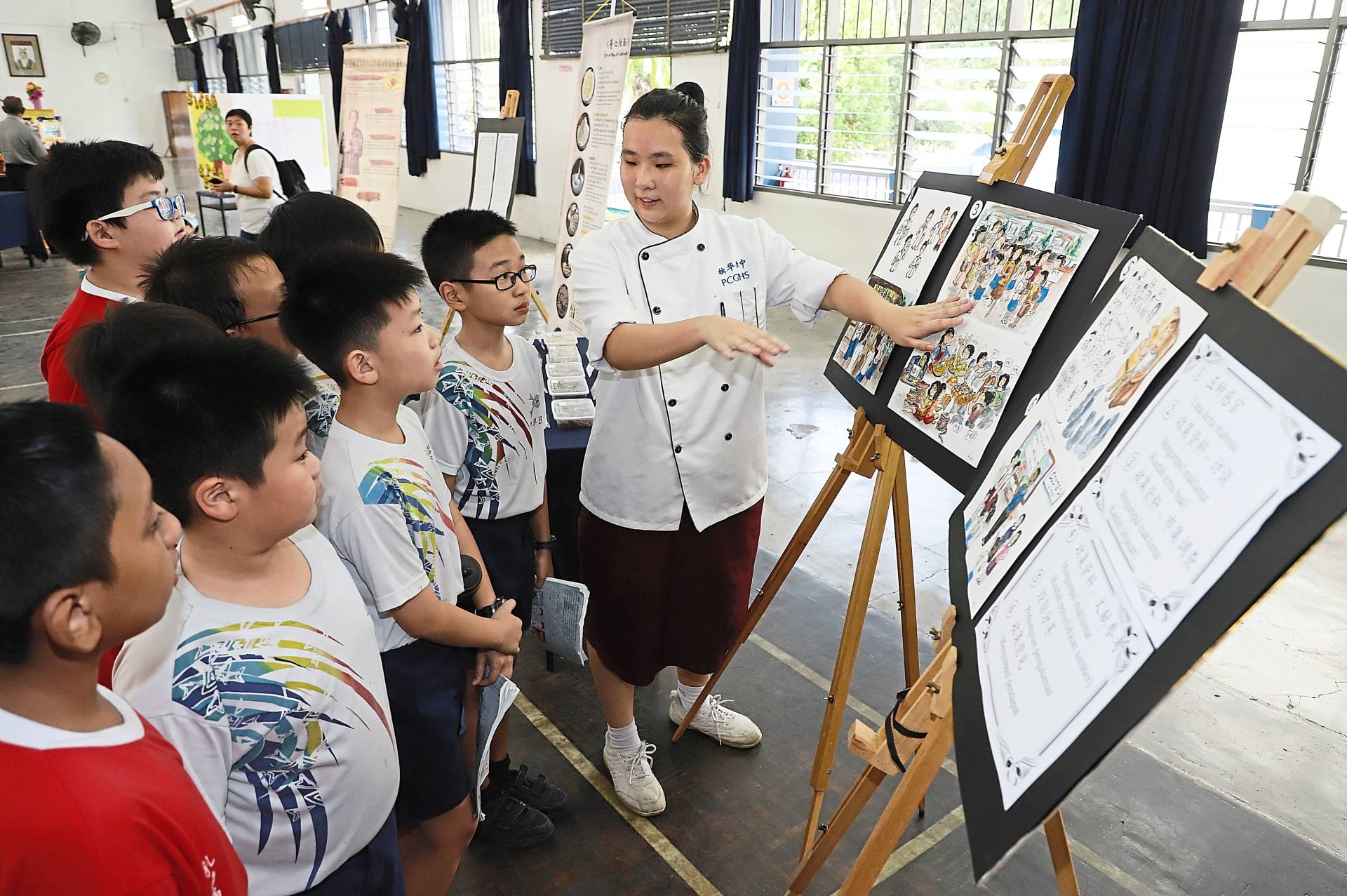 Date: 27 November 2019
AT THE top of 'Penang Hill', the drainage system built by cardboards and coloured paper was an exemplary replica of the real drainage system in use.
The replica, built by a group of students from SMK Air Itam, was one of the projects that earned the school the gold award at the Cultural Heritage Education Programme (CHEP) showcase and discussion forum.
The programme saw six schools taking part in the 'Place-based Learning (PBL): Real Life Classroom in the 21st Century' under CHEP.
The group of five SMK Air Itam Form Three students, who call themselves 'The Habitat' group wanted to simplify drainage systems for learning with their replica.
"This replica was made after our excursion to Penang Hill. When we visited The Habitat, we talked to various people, asked numerous questions and tried to understand the system ourselves.
"And eventually, we were able to create this replica, equip ourselves with knowledge and have fun in our learning process, " said P. Rinoshini, 15.
The group's leader, Darrick Eng, 15, said the project aims to showcase the use of British-style walls in the drainage system.
"We learnt that the system is unique and slows down water in drains flowing downhill at high velocities.
"This structure helps to break the momentum, and we think it is important for us to learn this, " he said at the event in SJK (C) Chung Hwa Confucian A.
The programme aimed at training and coaching schools to plan and design projects related to cultural heritage using the Place-based Learning method.
During the recent programme, five other schools also showcased exhibits and presentations on various projects related to local heritage.
One of them was the 'My Cooking Sauce' showcase by Penang Chinese Girls' Private High School, which won the silver award for the school.
Team member Eliza Lee, 17, said their showcase depicted the entire process of making soy sauce.
"Through this project, we learned the way to make soy sauce from soybeans, and how much Chinese cooking relies on this condiment.
"Now, we know much more about soy sauce, an important condiment used in many dishes, " she said.
Arts-ED director Dr Molly Lee said the programme was a good opportunity for the students to obtain hands-on experience and learn with a new method.
"It also allows teachers and students from participating schools to present their project output and project planning.
"We hope that more schools will pick up on the learning concept of cultural heritage, " she said in her speech.
Komtar assemblyman Teh Lai Heng said such programmes would allow students in the current generation to get to know their local heritage and cultures.
"With this, they can then preserve and pass on our local heritage along with its values, " he said.
The programme was organised by George Town World Heritage Incorporated (GTWHI) and Arts-ED with the support of northeast district Education office.
Read more at https://www.thestar.com.my/metro/metro-news/2019/11/27/thinking-big-to-protect-penang-hill#G5d3ucYX9M3PLhoB.99
Source