Date: 30 March to 10 April 2016
Time: 10AM to 10PM
Venue: Penang Time Square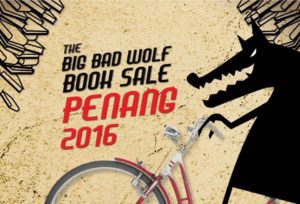 The Big Bad Wolf Book Sale began in 2009 at Dataran Hamodal as a warehouse sale by remainder bookstore BookXcess, dealing in various genres from best-sellers and children's books to specialist titles and deluxe coffee-table tomes.
Everyone gets to enjoy 75% – 95% discounts at the Sale. We help thousands of Malaysians every year discover the joys of highly affordable, accessible reading. Our low prices encourage customers to take a chance on new authors and genres they might never have tried before. For intrepid readers, no two visits to the Sale are ever the same!
Today, the Big Bad Wolf travels from state to state each year with his collection of low-priced books, before returning to the Klang Valley for the main Sale that gets bigger, bolder and badder every year! Whether you're looking for modern classics, a child's new library, obscure titles or something completely new and exciting, the Wolf has a book or ten waiting just for you.
BB1M vouchers Accepted !