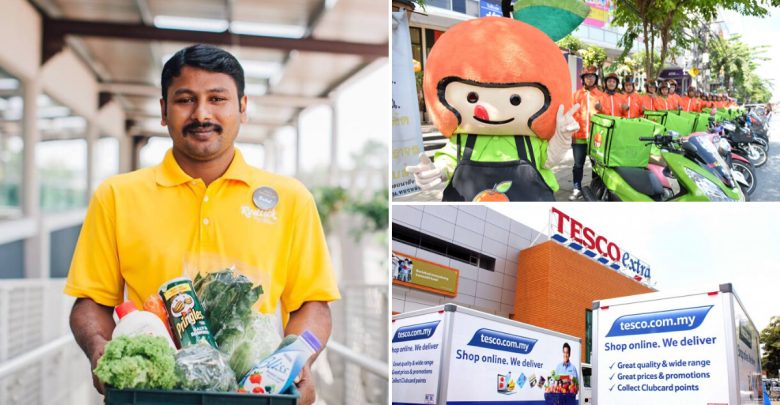 Date: 17 March 2020
With the news of more than 500 Coronavirus cases across nationwide, queues have shown up at many grocery stores. Many Malaysians have flocked to stock up on essentials like rice, eggs and also instant noodles. While some are left with disappointment as the shelves are emptied out. But fret not, here's a list of 7 online grocery shopping stores that deliver to your doorstep during the COVID-19 outbreak.
1. Tesco
Easily spotted in the neighbourhood across different cities in Malaysia, Tesco is available for online shopping! With a wide variety of choices from fresh produce to household items, you can find it all here. Oh and take a look at their promotion section for discounts on soaps too!
Delivery Time: 8AM – 10PM
Link: Tesco
2. Happy Fresh
Ever since their collaboration with Giant, Happy Fresh has been one of the top places to get the basic groceries done. Not to mention, they also provide delivery services from Cold Storage, Mercato and Tesco! So, if you're looking for something more than your essential groceries, Happy Fresh will be a good place to start.
Delivery Time: 10AM – 9PM
Link: Happy Fresh
3. Sunshine
A place that offers wallet-friendly price yet a wide variety of choices is nonetheless at Sunshine. From local canned products to imported produces, it's all available here. What's better is that Sunshine is now also delivering to mainland Penang too! So mainlanders, it's time to shop online at Sunshine!
Link: Sunshine
4. MyFishman
If you're looking for fresh seafood that is priced at an affordable range, then MyFishman is the place to go for. With over 50 types of fish from the sea around Malaysia to offer, they deliver seafood fresh from the fishermen to your doorstep.
Delivery Time: 11AM – 7PM (Wed – Sat)
Link: MyFishman
5. Redtick Plus
Another online grocery shopping store that offers delivery is Redtick Plus. Featuring essential groceries, stationery and baby products, it's a place that offers almost anything you can think of. Not to mention, they also have organic products too.
Delivery Time: 9AM – 9PM
Link: Redtick Plus
6. BMS Organic
As Malaysia's largest organic retail chain with more than 40 outlets across nationwide, BMS Organic offers delivery with a minimum of RM150 and above. It features groceries, basic snacks, health supplements and more! So if you ever want a more healthy alternative to your diet, BMS Organic is a good place to start shopping.
Delivery Time: 3-5 Business Day
Link: BMS Organic
7. Signature Market
Buying organic products can be costly but it's not so much at Signature Market. By purchasing directly from the manufacturers, you can save get up to 50% on their products. With the primary focus on healthy snacks like dried fruits, nuts and powdered beverages, they also offer baby food and snacks too.
Delivery Time: 7-10 Business Days
Link: Signature Market
Source