Come and get Ur Caricature for FREE and donate for the charity!
Date: 18 & 19 March 2017
Time:10AM (18thMarch) until 10:40AM(19thMarch)
Venue: In front of Masjid Kapitan Keling (next to Nasi Beratur)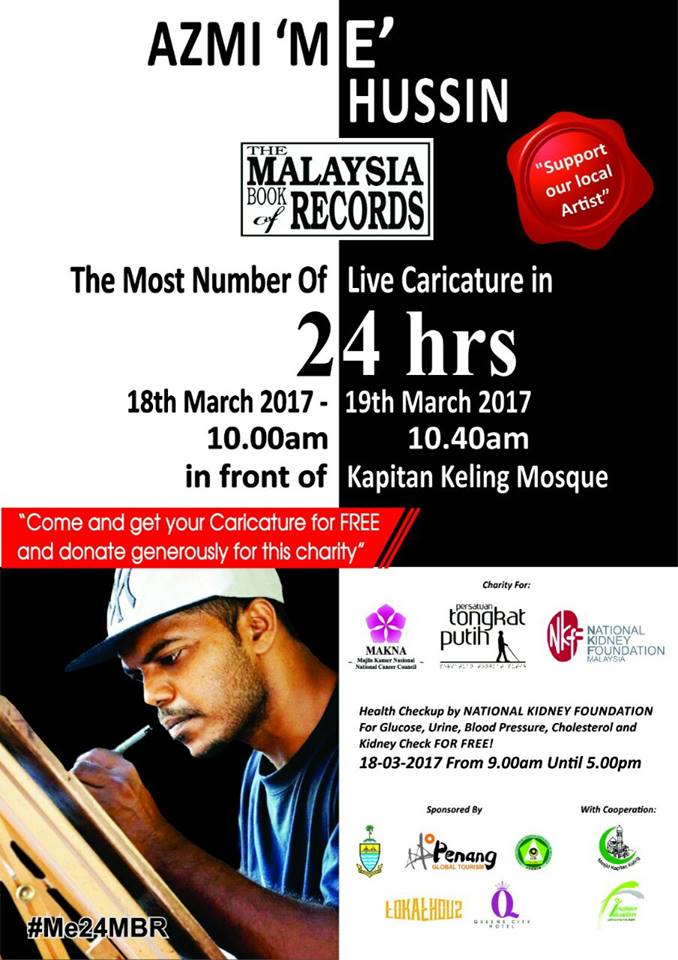 Mohd Azmi Mohd Hussin, popularly known as Me, is a true-blue Penangite born and raised in Butterworth. From his early schooldays he was always fascinated with drawing and admitted that he "won almost all the art competitions in school!". Me would spend half of his daily pocket money on art paper to draw his favourite cartoons – the Thundercats, Rambo and the Teenage Mutant Ninja Turtles. By the time he was in Standard Six he was already creating his own DIY comics to sell (just like his idol Dato' Lat). After leaving school, Me worked part-time at a coffee stall before taking up a graphic design course. After college he worked in a factory for a few years before deciding to follow his passion to become a full-time artist. Currently, Me is based at the Made In Penang Interactive Museum where he has thrilled thousands of visitors with his caricatures. "I want to continue my dream to become a cartoonist. But this time, no more superhero stories. I want to capture the true essence of Penang," he explained. Me, who credits his mother for being his biggest supporter, is also a BMX fanatic.
On the 18th and 19th March 2017, Me will be attempting to enter Malaysia Book of Records by drawing at least 250 pieces of caricatures (as required by Malaysia Books of Records) in 24 hours. He will start from 10am on 18th March, in front of Masjid Kapitan Keling Mosque (beside Nasi Beratur).
Sponsered By: Penang State, Penang Global Tourism, Pesekutuan Pertubuhan India Muslim Malaysia (PERMIM) & LokalHouz
with cooperation :Masjid Kapitan Keling & Indian Muslim Community organization Malaysia (iMcom)
Related news & articles: https://www.malaysiakini.com/news/373447
http://www.themalaymailonline.com/malaysia/article/behind-penangs-instagrammable-street-art-a-tale-of-desperation-and-hope