Date: 30 January to 1 February 2018
Venue: Lebuh Penang and Arulmigu Balathandayuthapani temple (Waterfall Hilltop temple), Jalan Kebun Bunga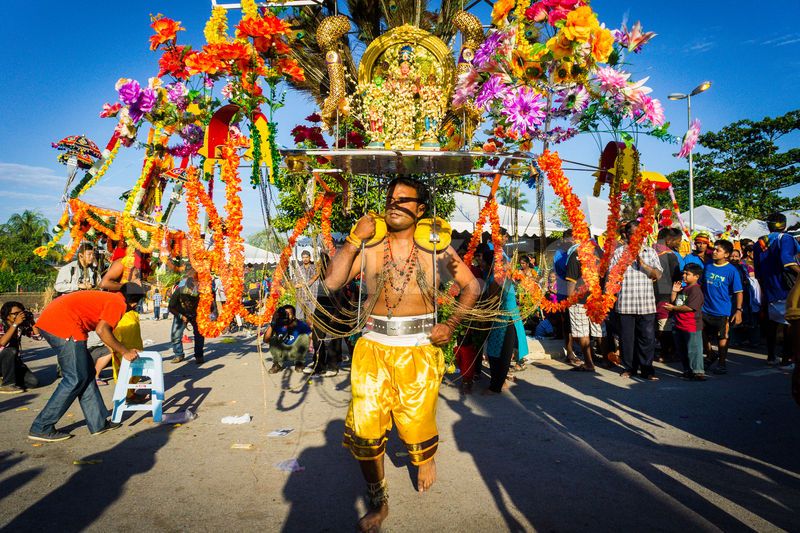 Thaipusam signifies the victory of good over evil. During this celebration, a pilgrimage procession takes place to bring the statue of Lord Muruga on a golden chariot worth RM3 million led by more than 60 kavadis from Little India to the Arulmigu Balathandayuthapani hilltop temple at Wterfall Road. On Thaipusam day, devotees go through a physical endurance of being skewered and pierced on the back and front of their bodies as act of penance.
View Penang Thaipusam video here.
<iframe width="560″ height="315″ src="https://www.youtube.com/embed/fFQ8PuqXKC4″ frameborder="0″ allow="autoplay; encrypted-media" allowfullscreen></iframe>
Schedule:
30 Jan, 5am: 'VEL' Procession on the Golden Chariot will leave the Sree Maha Mariamman Temple, Queen Street Penang
30 Jan, 9pm: Expected to reach the Hilltop Murugan Temple
31 Jan, All day: At Arulmigu Balathandayuthapani Hilltop Temple, Jalan Kebun Bunga
1 Feb, 5pm: Return journey – Golden Chariot leaving the Arulmigu Balathandayuthapani Hilltop Temple enroute to the Sree Maha Mariamman Temple, Queen Street and is expected the arrive at 7.00am the following day.
The route for the procession will be as follow:
30th January 2018, Tuesday 5.00AM
Queen Street (Sri Maha Mariamman Temple) – Chulia Street – Victoria Street – Jalan Prangin – Jalan Magazine – Jalan Dato Kramat – Jalan Utama – Jalan Air Terjun (Hilltop Murugan Temple).
1 February 2018, Wednesday 5.00PM
Jalan Air Terjun (Hilltop Murugan Temple) – Jalan Gottlip – Jalan Air Rajah – Jalan Macalister – Jalan Anson – Jalan Burma – Jalan Transfer – Jalan Sri Bahari – Jalan Penang – Jalan Campbell – Pitt Street – China Street – Beach Street – Market Street – Queen Street (Sri Maha Mariamman Temple)